Home
Products

Inno Setup

Toolbar2000

Toolbar97

StripReloc
Support

Forums

Contact

visitors since
Jan. 1998
Toolbar97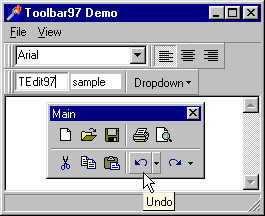 Toolbar97 is the original dockable toolbar component set for Delphi and C++Builder designed to mimic the Office 97/2000 look and behavior. Toolbar97 is free and open source.
Toolbars that can be dragged and docked to any side of a form, or be left floating. Multiple toolbars can lined up side-by-side or in rows.
All source code for customization if necessary.
A TToolbarButton97 control that looks and works just like the buttons in Office 97/2000.
A TEdit97 control for creating Office-style edit controls on toolbars.
Ability to save and load toolbar positions from the registry.
Full compatibility with Windows 95/98/2000/Me/XP and NT 4.0/3.51, without requiring a newer version of COMCTL32.DLL, unlike Delphi's TToolBar and TCoolBar components.
100% native VCL code -- no bulky OCX's.
Y2K compliance. (Toolbar97 does not use dates.)
| | | |
| --- | --- | --- |
| Softseek Editor's Pick | Torry's Top Award | FileFarm Cream of the Crop |
---
Site contents Copyright © 1997-2022 Jordan Russell. All rights reserved.
Portions Copyright © 2000-2022 Martijn Laan. All rights reserved.