Home
Products

Inno Setup

Toolbar2000

Toolbar97

StripReloc
Support

Forums

Contact

visitors since
Jan. 1998
Toolbar2000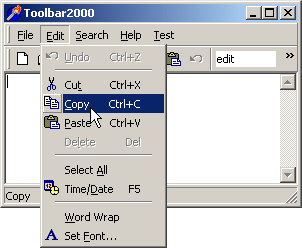 Toolbar2000 is a set of components for CodeGear Delphi and C++Builder (4.0 and later) designed to mimic the look and behavior of Office 2000's menus and toolbars.
Toolbar2000 is nearly a complete rewrite of the classic Toolbar97 component set. As such, I consider it to be a new and separate product, not a mere upgrade. (However, all currently registered users of Toolbar97 are licensed to Toolbar2000 as well, at no extra charge.)
Some of the features of Toolbar2000 include:
Office 2000-style draggable, dockable toolbars

Toolbars can smoothly move as they are dragged (no dragging rectangle).
Toolbars that go partially off the edge of the form can display a chevron button that brings up a popup window exposing the obscured items.
Toolbar items can optionally wrap into multiple rows like Office's menu bar.
Unlike Toolbar97, toolbars are not required to be placed on a dock; they can be placed anywhere you need them.
Vertical text on vertically-docked toolbars.

Office 2000-style menus
There is no clear distinction between menus and toolbars, giving you the utmost in flexibility. Toolbars can contain menus, menu bars can contain buttons, and they can share the same items.
Full compatibility with Windows Vista, XP, 2008, 2003, 2000, Me, 98, 95, and NT 4.0. (No COMCTL32.DLL update is required.)
Slide & fade animation (when enabled in Windows).
On Windows XP, support for shadows on menus and flat menus (when enabled in the OS).
Microsoft Active Accessibility (MSAA) support.
Scrolling menu support.
Multi-monitor support.
Support for .NET VCL projects on Delphi 2006 and later.
---
Site contents Copyright © 1997-2022 Jordan Russell. All rights reserved.
Portions Copyright © 2000-2022 Martijn Laan. All rights reserved.